Like its name, Virtual Audio Cable is a Windows virtual audio device that allows a user to connect two audio applications. The software captures all audio data from one side and transfer it to the other side in real time as if there was a cable between two audio applications.
One of the attracting feature of Virtual Audio Cable is all audio data are transferred digitally, so there is no sound quality loss. Virtual Audio Cable also supports unlimited virtual audio connections. So it is better than a physical cable connection.
VAC is Windows WDM driver based and works for both 32bits and 64bits Windows, from Windows 2000 to the latest Windows 8. Its GUI, gives a full control to its kernel audio driver and makes the software easy to use, even to a beginning user.
Because Virtual Audio Cable can work as system default audio card, besides transferring audio it receives, it can also write all its audio data to disk files like wav or MP3. You can use feature to record all sounds you hear.
VAC supports reading multiple audio inputs and mixing them together or outputting separately. The mixing algorithm is based on windows sound mixer and have a good quality.
Many voice chat software or music player (such as foobar2000, winamp) or online broadcasting site (such as youtube, blogtv.com) only allows the user to stream microphone sounds, with Virtual Audio Cable, you can stream all what you hear to them.
Virtual Audio Cable is an all-in-one audio utility to record, connect, broadcast, streaming audios. For example, you could use Audacity and microphone as audio generators and connect them to VAC, then record the mixed stream from the VAC directly, or broadcast the mixed stream to Skype or Justin.tv.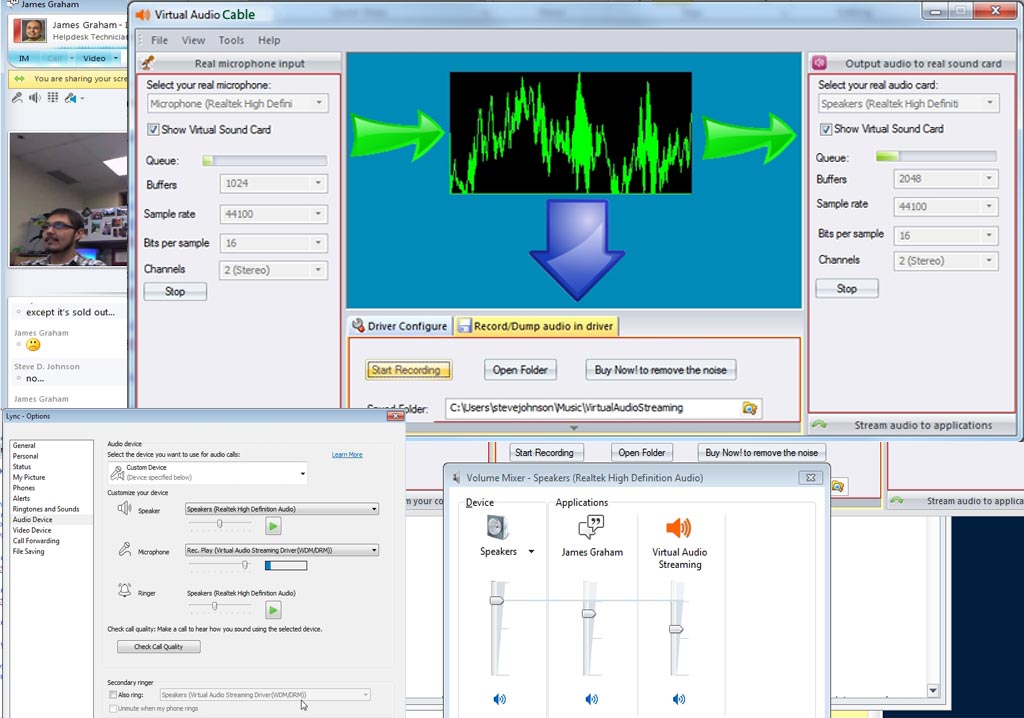 Feature Lists:
1) Connect audio applications as a loopback device.
2) Record and stream audios.
3) You can adjust audio buffer, sample rate, channel and audio sample size.
4) Multiple virtual cables.
5) High definition audio formats supported.
6) High quality and real time.
7) Switch system-wide audio cards in 1 click.
8) Fix stereo mix on Vista/7/8.
9) Easy GUI, easy to use.
10) All physical audio card brands supported. Microsoft digital signature driver.